5 Most Popular Traditional Indian Summer Sharbat
September 27,2019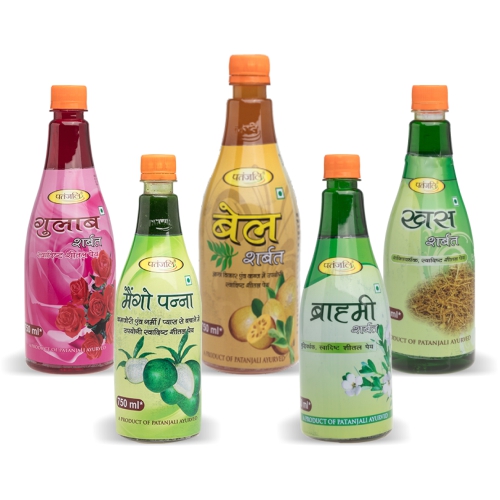 Introduction
A chilled glass sharbat in summers can provide you ample of benefits. There are some top recommended products which you use for making sharbat. In India, it comes under most favorable items which are easily available in street corners. In hot sizzling summers, Patanjali offers you a large variety of Sharbat. In India, it is the most favorable energy drink which you can serve to your guests. By adding herb and shrubs, you can easily prepare Traditional Indian Summer Sharbat. But from Patanjali, you can buy readymade sharbat in different flavors such as Khas Sharbat, Gulab Sharbat, Bel Sharbat, Brahmi Sharbat, and Mango Panna, etc. Along with flavor, these drinks are known for their healthy nutrients.
In summers these energy drinks can provide nourishment as well as boost energy. This traditionally sharbat contains ample of health benefits. It is more than syrup, which contains fruits as well as flowers. You can visit at Patanjali online website if want to enjoy the different flavor of sharbat.
5 Most Popular Traditional Indian Summer Sharbat
Indian customers love traditional food products instead of synthetic items. So by keeping this thing in mind, Patanjali has tried to provide everything at their stores.
1. Mango Panna:
It is also named as Aam Panna, the real flavor of mango is the widest appeal of Indians. It is prepared by adding herbs and shrubs. This energy drink can hydrate your body organs. In summers people suffer from dehydration, in such circumstances, you can opt mango Panna. Along with taste, it is known for its nutritional benefits.
Natural ingredients are used in Patanjali mango Panna, so that can make it tastier and healthier. It contains heat-resistant properties, so in summers it can help you in overcoming from various disorders which are due to insufficient intake of water. Light green color north Indian energy drink is prepared by using raw mangoes.
2. Brahmi Sharbat:
It works as an ayurvedic treatment which helps in body functioning. Brahmi sharbat is extracted from natural herbs and shrubs i.e. known for a healthy body and beautifying skin. It is thick syrup which contains anti-inflammatory properties. So you can have it an ayurvedic medicine; it can deep nourish your body. This herbal ingredient can reduce the risk of low energy. It helps in the proper functioning of kidney and liver.
3. Gulab Sharbat:
It is the most common drink which you can enjoy in the Northern area. Easy to made and healthy drink is super refreshing; it contains hydrating properties. Gulab sharbat contains petals which are known for its special aroma. So herbal product can help in making your skin healthier as well as increase stamina. It also purifies the blood and can help in getting rid of urinary infection. Gulab sharbat is a healthy product for all age group people. It is also known as a healthy drink, which can keep your mind fresh.
4. Bel Sharbat:
It is also known as seasonal summer fruit; hence it is rich in nutrients. So you can add it in your daily life for curing heatstroke or other disorders. For proper digestion or hydrating body organs; Bel sharbat is the ultimate solution. There is no addition of sugary element; so even diabetic patients can have it. It is rich in mineral and vitamins, so in summers start taking it once in a day.
5. Khas Sharbat:
It is prepared with natural herbs, so does not have any side-effects. The healthy nutrients from Khas root are extracted for preparing it. Khus sharbat contains some essential nutrients which can help in the regulation of blood flow as well as other skin benefits. Khus is a traditional herbal product which is used in various skincare products.