Pamper Your Skin by Patanjali "Summer Care Kit"
May 17,2019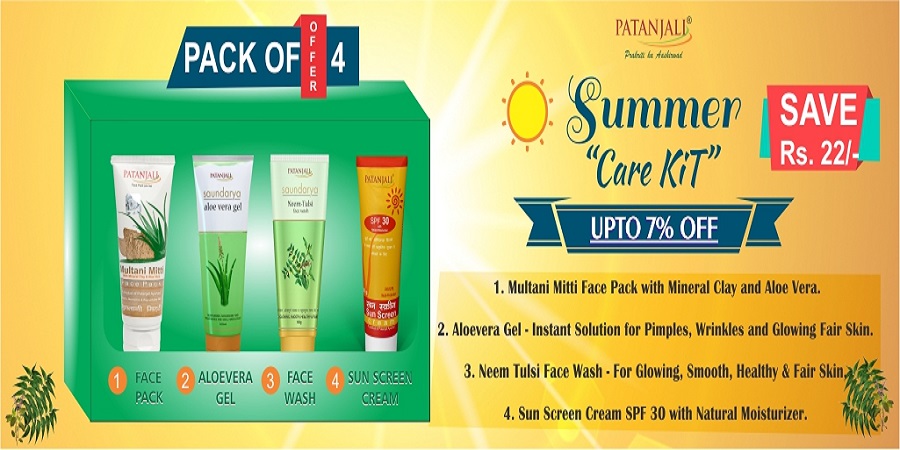 Introduction
In summer, skin starts looking dull due to excess exposure of sun that is highly harmful. Patanjali is offering "Summer Care Kit" at a reasonable amount which is a complete set of Best Skin Care products includes Multani Mitti, Aloevera Gel, Neem Tulsi Face Wash, and Sun Screen Cream (SPF-30). This exclusive Patanjali package of skin care products helps to protect your skin from harmful radiations of the sun along with this it nourishes & revitalizes the complexion of your face. Skin becomes attractive, fresh, and smooth with Patanjali herbal summer care kit.
Benefits of all four Patanjali herbal skin care products
1. Multani Mitti Face Pack
Patanjali Multani Mitti Face Pack is contained in this package of four skin care products. It claims to cool down the skin, by leaving it clean as well as fresh. Hence, it provides a non-greasy and naturally glowing skin.
2. Saundarya Neem-Tulsi Face Wash
It is the Best Skin Care product offered by Patanjali. Saundarya Neem-Tulsi Face Wash is manufactured by using all the natural products which help to rejuvenate the skin by deep cleansing your skin. It is used to remove grime, dirt, and pollutants. Your skin will start breathing properly throughout the day.
3. Patanjali Saundarya Aloe Vera Gel
Aloe Vera Gel offered by Patanjali is amongst the most popular skin care product. The cooling properties of Aloe Vera Gel help in soothing your skin especially if your skin has been in direct exposure to the sun for a long duration.
4. Sun Screen Cream (SPF-30)
Herbal Sunscreen offered by Patanjali is completely manufactured with natural ingredients that help to maintain the actual appearance of your face by keeping it safe from harmful radiations of the sun.
Redefined your beauty with Natural products
Your beauty will be redefined with herbal summer care kit offered by Patanjali. Right now the company is offering a huge discount on this package. Grab the benefits offered by this value pack. Recently, Patanjali is also started its online portal for online shopping; now you can buy any products in just a few clicks.
All Patanjali products are made by maintaining proper hygiene all-around. It is made with superior machines along with efficient brains in order to provide the best quality products. The main part about Patanjali products is its purity everything is manufactured under the supervision of experienced professionals. Ingredients used to make skin care products are completely natural which will surely renew your skin.
You can pamper your skin by applying herbal summer care kit as it helps to make your skin beautiful and attractive. Patanjali beauty products hold a special place in the heart of many people as it offers exemplary results. Visit
www.patanjaliayurved.net
for booking product today!